Teaching notes, the Connect Card, and links to help you worship.
As we worship together in person, here's what leadership asks of us.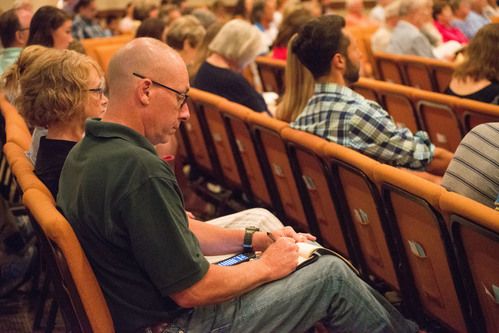 We are One Church and One Family.


Where do I park?
There are special parking spots directly in front of the building marked with "Visitor Parking" signs. These spots are for you!

What should I wear?
You're invited to come however you feel most comfortable without worrying about fashion. Our usual attenders wear everything from shorts to suits.

What about my children?
We have Nursery and Wee Worship available for children ages 1-5 during both worship times. Elementary age worship is available only at 9:30am.

What should I expect when I visit on Sunday?
When you arrive, you will enter through the front doors and be greeted in the lobby by a hospitality team member. He/she will answer any questions, direct you to our QR Code Connect Card and help you find a seat in the Worship Center.
Health & Safety Precautions
As we move into the next phase and begin worshiping together in person, here's what the leadership asks of us during this time:
Clear Creek Covid-19 Exposure Response Process
Touchless Experience: Our team has worked hard to ensure that all worship times are, for all intents and purposes, "touchless". If you choose to worship with us in person, you won't have to open doors or pass offering or communion. While with us, we also ask that you respect one another's social distancing preferences by not assuming someone wants to hug or shake hands.


Entry and exit: There will be specific doors to enter before worship and exit after worship. The worship center, lobby and front restrooms will be the only accessible parts of the church building due to cleaning requirements. All other areas of the building will be closed.


Masks: Unless on stage, all volunteers and staff are instructed to wear masks. Masks are strongly encouraged for all middle-school children and older while in the building to protect all worshipers. Masks are available at the building entrance if needed.


Worship Center Seating: Greeters and ushers will oversee entry, seating, and exiting for all to ensure safe, social distancing practices are upheld. We ask that families sit together. Seating will maintain 6 feet apart.


Singing: We will sing together, but we strongly encourage worshipers to wear masks while singing.


Communion: Prepackaged communion will be available for you on the way in or you may bring your own.


Giving: We encourage you to give online at clearcreekcoc.org/give or mail a check to: Clear Creek Church of Christ, 5612 Hixson Pike, Hixson, TN 37343.


Children and Youth: Children and youth are asked to sit together with their families during worship.


Staff and Volunteer Screening: All staff and volunteers will undergo temperature checks and COVID-19 screening questions before serving each week. In addition, staff and volunteers who will be in close contact with large numbers will be wearing a mask.


Facility Cleaning/Sanitizing: Between each worship service, all doors, restrooms, and all high touch areas will be sanitized.


Hand sanitizer stations will be available, and you are encouraged to bring your own sanitizer.


Handouts: There will be no bulletin or paper handouts. You are encouraged to continually check the website and daily news for updates.


Restrooms will be open but limited to one person per sink at a time. To help with social distancing, an attendant will be present at each restroom.


Cafe will not be open for fellowship and coffee.


Water fountains will not be available and will be turned off. You are welcome to bring your own water bottle.


The leadership will continue to monitor social distancing recommendations and make any changes needed as we move forward.
If you have a fever or are experiencing any COVID-like symptoms, we ask that you please join us online for worship this weekend.

Clear Creek Covid-19 Exposure Response Process
Together WOrship Elements
We are One Church, no matter whether you are worshiping at home or at the building. Live Stream will continue to be available at 9:30am and 11:00am. If you are part of the at-risk population, are unable to attend in person, or are uncomfortable attending in person, we will continue to provide our online streaming platform for people at home.
We are One Family that respects each other. Each person in our church family falls in a range of attitudes toward the virus and social distancing guidelines, from very cautious to not worried at all. We want everyone to feel welcome and safe as we worship together in person.