Jesus said, "Let the little children come to me..."
Matthew 19:14
Clear Creek partners with families in leading children to know, love, serve, and follow Jesus Christ. We want them to understand the depths of God's love and how they are created for a special purpose. Through Bible classes and special events, we disciple and shape our community through each generation of young believers.
Sunday:
9:30am: Infant class (Cradle Roll), Nursery (18mo-2 yr old), Wee Worship (ages 3-5), and Elementary Groups.
11:00am: Preschool only - Nursery (1-2 years) and Wee Worship (3-5) in the preschool wing.
See more details about
Worship at Clear Creek
.
For children attending in-person Wee Worship and Elementary groups, click here for the lesson topics by date. Watch this video to learn how to access tools to use as a family.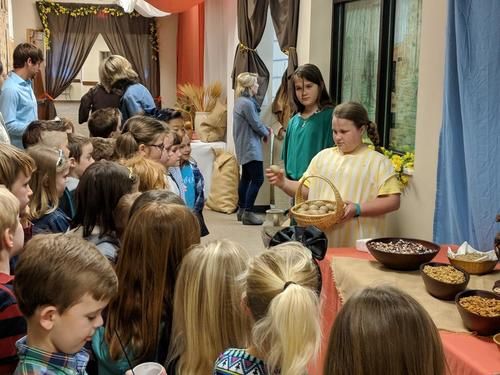 June 6-9, Sunday-Wednesday - Summer JAM: Press Play (VBS) (Sunday 9:30-10:30am/Monday-Wednesday 9:30-11:30am) For ages four years old through 4th grade. Register here!
June 23-25, Wednesday-Friday - 5th Grade River Retreat
July 12-15, Monday-Thursday - Summer Camp @ Camp ToKnowHim for rising 4th-9th graders
SUMMER CALENDAR

Our children's ministry is committed to helping you nurture your child's spiritual growth at home.
Be intentional is discipleship on-the-go with these short podcasts!
For Children:
For Parents:
Say YES! to sharing Jesus and God's love with children this summer! From special events to decorating to teaching and more, we would love to have you join a team this summer! Go
here
and Laura will contact you promptly with more information!
Elementary Sermon Notes: Print each week for your elementary child to use when they worship in person or online.
Check the Mailbox! Take time to draw a picture and write a note saying hi to a friend or family member you miss seeing. It will be them great cheer to hear from you and a reminder of how much they are loved by you and God.
Books of the Bible Song Links:

Old Testament
New Testament
Children's Registration Form Please complete an updated form for our records this year (one per family). Print/return or complete a copy provided at the Children's Welcome Desk. Thank you!